Articles
Some of the articlhttps://plancksatellite.org.ukare available in PDF format. To view these you will need a PDF viewer to read them. To download, right click on the PDF link and select "Save target as…" or "Save link as…" (depends on your browser).
"Unravelling the Big Bang with the Planck Satellite" (PDF) Professor George Efstathiou, Kavli Institute for Technology, University of Cambridge; Member of the Planck Science Team. A review of the history of the Planck mission, the science that it will investigate, and a few hopes for the future of the mission.
Postcards
For the Royal Society Summer Science Exhibition 2009, postcards were given away with information about the Planck and Herschel missions, as well as their science. Click on the images to download high-res versions.
Posters
You can also download the posters which were displayed at the Royal Society Summer Science Exhibition 2009. The posters have been adjusted to have the same aspect ration as portrait A4, so should be easier to print out. Click on the image below to download high-versions of the posters.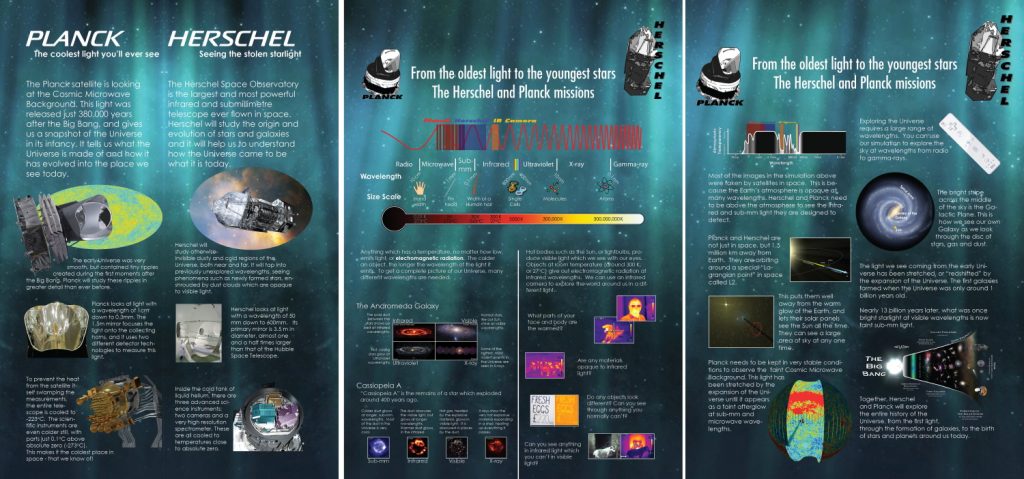 Planck Results
Please see our Results page to view and download more images from Planck.